Lisa Heinz
is a Chicago native, she received her Interior Design Degree from the prestigious Harrington Institute of Interior Design, in Chicago. She is a past A.S.I.D. professional member and past D.I.A. member in Australia. In 1997 she became a professional member of the N.C.I.D.Q  after passing the technical Interiors + construction exams. (N.C.I.D.Q is a highly recognized National Interior Design Certification in the USA)
She has collaborated with clients on high-end residential and commercial interiors in the U.S. as well as England and Australia.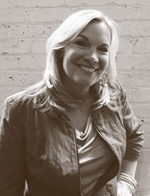 Instead of being known for a "Signature Style" she prefers to truly understand and listen to her clients lifestyle needs so she can deliver a timeless design mix that reflects good taste and a unique space for each client.
Full design services include furniture and art selections, space planning, interior specifications and installations.
She is also involved with the local community and participates in several charities as well as serving on the Harrington Alumni board.